How to Prepare Your Content Migration Project and Master Its Execution
Simply put, moving content from one CMS to another is what we call Content Migration; although the publishing platform switch is not as simple as its definition. The process is complex and meticulous, and it is not just about transferring all your online work from one platform to another. Typically, content migration reveals parts of a project that need improvement, whether in terms of information architecture redesign or page redesign. From the beginning to the end, it requires planning and strategy.
Understand your CMS
The content migration project starts by defining why it is needed for your company's website. Changing CMS could save money and time, and that's a perfect reason among others. It may be a matter of security enhancement, or maybe the organization wants to standardize systems. Sometimes the complexity and lack of support from your current CMS lead you to change it to a new one. You might need a CMS that supports multiple sites in the same installation to move forward with your commercial goals, for instance. Using the inappropriate CMS can compromise your website's performance since some platforms are essentially coupled, forcing the backend administration and the frond-end experience to share the same hosting. The fact is that understanding the reasons behind the needs of a new website or a new CMS will always impact the overall process.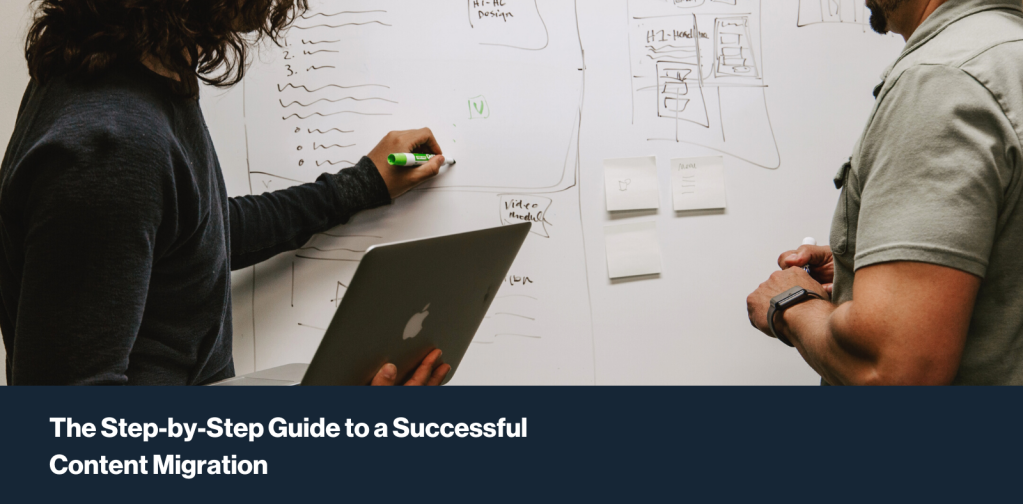 1. Strategy
For starters, you will need to know the amount of content to be transferred, both in terms of content and data usage. While defining the strategy and priorities, you will have to understand the audience, and if the content you have already developed, as well as the content you are willing to produce from the migration on, are well aligned with the goals. Define a timeline for the project, considering any time-sensitive matters, and keep track of it.
This is probably when your web team will help create a sitemap. That way, it's possible to have a clearer view of the new pages, content adjustments and UX needs.
The strategy phase includes the assembling of the team involved with the project. It means you need to muster backend developers, designers, marketing specialists, customer services professionals, SEO experts, website admins and content creators.
Website content migration's ultimate goal should be to deliver the best possible experience to your users for this to become positive brand reinforcement and return on investment but also to ensure good data hygiene, governance and legislative compliance for data processors. Once you establish a clear vision of the new ecosystem, define the budget, assess, staffing, resources, and then it's time to move forward to the second step.
2. Data audit
Migration is the perfect opportunity to evaluate whether your content performs as expected. Analyze your statistics as well as your content. Find what performs the best in terms of traffic and engagement. Verify if your multimedia content still tells the story your brand wants to tell. Understand that data audit involves removing Redundant, Outdated, or Trivial (ROT) data, so let go of content that doesn't align with your new strategy and enhance the remaining data if needed.
The more effort and attention you put in during the migration audit, the less work you will need to put in readjustment later on. The findings of your migration audit become a to-do or not-to-do list for both content development and accessibility maintenance on the new platform. From a business perspective, the outcome of a well-heeled data audit will boost your content performance, and that's what the entire content migration project is ultimately about.
3. Preparation
Choosing a CMS that suits your goals and needs is a big deal. Many platforms are moving towards the Digital Transformation era, and that's awesome. The opportunities for developers, content creators and customers are becoming endless with platforms that mix future-proof interactive experiences. Embrace the details. Every CMS has its advantages and disadvantages, but the most suitable CMS is the one that: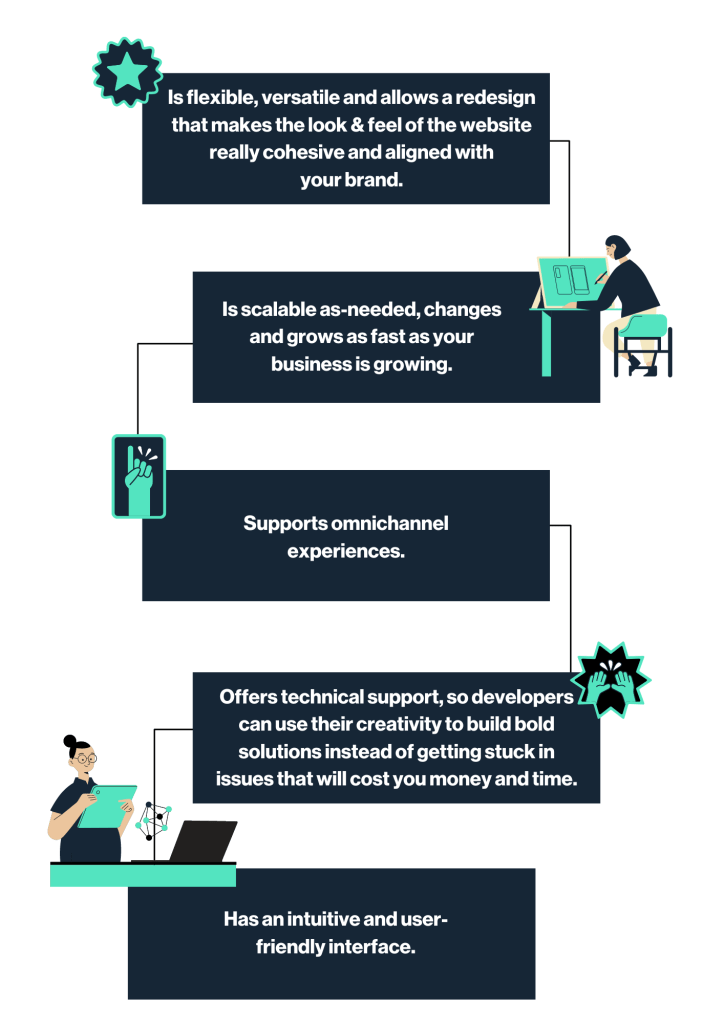 During the preparation phase of a content migration project, you should become familiar with the system you are migrating to, as content migration is a massive undertaking. Review the website accessibility protocols and identify practices that should be improved from migration onwards.
4. Migration
During the migration phase, you will want to use an accessibility checker. The same should happen with your SEO practices. Use the content migration opportunity to review and implement solutions that help reach your content on the web.
There are several robust, scalable and secure options to achieve this goal, such as Trew Knowledge's new partner SiteImprove. The SaaS solution "helps organizations achieve their digital potential by empowering teams with actionable insights to deliver a superior website experience and drive growth" for both medium and enterprise-level websites. SiteImprove even provides a tool that allows decision-makers to check if unpublishing a page will impact the website's performance, and managing that information can be crucial.
Let's get started
The content migration process should follow a few key steps in general in order to properly Extract, Transform and Load (ETL) the content from its source database into the new structure and format:
– Extract source data from original CMS and land in a secured environment for preparation of the ingestion file. 
– Conduct a Source to Target Mapping (STTM) review of the database to map the source data to new target structure and format requirements.
– Develop any scripts to transform data values and update the data for test ingestions.
– Test import new structure with a 2%-5% sample data set to validate the transformations and schema is successful.
– Modify and change any issues, refinements or new additions for import test cases based on test ingestion.
– Schedule a bulk load into the associated environment for initial ingestions and planning towards any delta loads.
– Delta content migration prior to launch as required. 
– Apply content freeze within your schedule to avoid missed updates. 
Starting with a pilot by transferring smaller data batches using the same process as above can help streamline multiple data sets. Once that is done, a larger migration test can be done to verify how the system reacts to the process at scale.
The migration process per se should be monitored to identify potential errors, formatting issues and respect modern-day best practices in data hygiene. This means consistent data formatting across systems, validations of data going into the new system, determining your security requirements around sensitive data.
Perform a final data audit by validating the user experience and quality of content throughout the applications you are building. And finally, as you prepare your data to migrate to new environments, ensure that you are taking the opportunity to meet compliance and legal standards around the protection of personal data and other sensitive information.
WordPress now powers 43% of all websites, and it's quite easy to understand that massive preference. As an open-source platform, WordPress provides the tools developers need to use their creativity to create robust online full-service business management solutions, host a social network or a learning management system, present interactive portfolios, and much more.
More than its core package, WordPress works with a variety of basic and premium plugins suitable to whatever business requirements may be. Its beautiful, responsive and creative gallery of themes, as well as the easy access to source files, makes WordPress incredibly adaptable to a company's changing needs. Once you've got all of your content into a database and running under WordPress, changes and relaunches become smoother than ever, even if your website requires an entire redesign. That's the ease of having the design dictated by one theme.
WordPress is a very security-conscious platform. As several updates are released throughout the year, security-related issues are constantly revised and improved. In addition to the software's own protection, there are outstanding security plugins with even more advanced features, which will add an extra layer of security to the site.
And more than everything above-listed, a WordPress website is easy to maintain, manage and use, an advantage that contemplates administrators and content creators at the same time. That means new products, marketing campaigns, content and even new websites can be easily incorporated into your business strategy with minimal stress for management teams.
Trew Knowledge is happy to embrace your content migration project. We are prepared to rethink an entire strategy for your website, powering your content and user experience. Migrating to WordPress doesn't need to be a nightmare. Whether you are migrating from Drupal, SiteCore or AEM our team can help. Ready to get started? We should talk.
---
Other Work