Maple Leaf Foods Feeling at Home: Experience the New Maple Leaf Foods' Website
Maple Leaf Foods connects families around the table by investing their interests in better feeding Canadians and the generations to come. Its belief in the good of food aims to transform the world's food system. Maple Leaf Foods is proud to be the world's first major carbon neutral food company. This is just one step closer to the goal of becoming the world's most sustainable protein company.
Concern for the well-being and nutrition of Canadian families is one of the values that drive the company. Over 100 years of history have been built on pillars of healthy eating, using high-quality protein as a foundation. Back in 1991, the successful merger between the meatpacker Canada Packers, founded in 1927, and Maple Leaf Mills, founded in 1961, gave rise to the formation of Maple Leaf Foods. The rival Schneider Foods was purchased and joined the company in 2003. Reinforcing the purpose of making a better world by making sustainable meat, Greenfield Natural Meat Co. was founded in 2015.
Maple Leaf Foods wanted a website that offered a "feels-like-home" sensation to families that welcome their various products day after day and would translate the brand's ideals of caring, transparency, respect, and responsibility while showcasing their products, recipes and campaigns.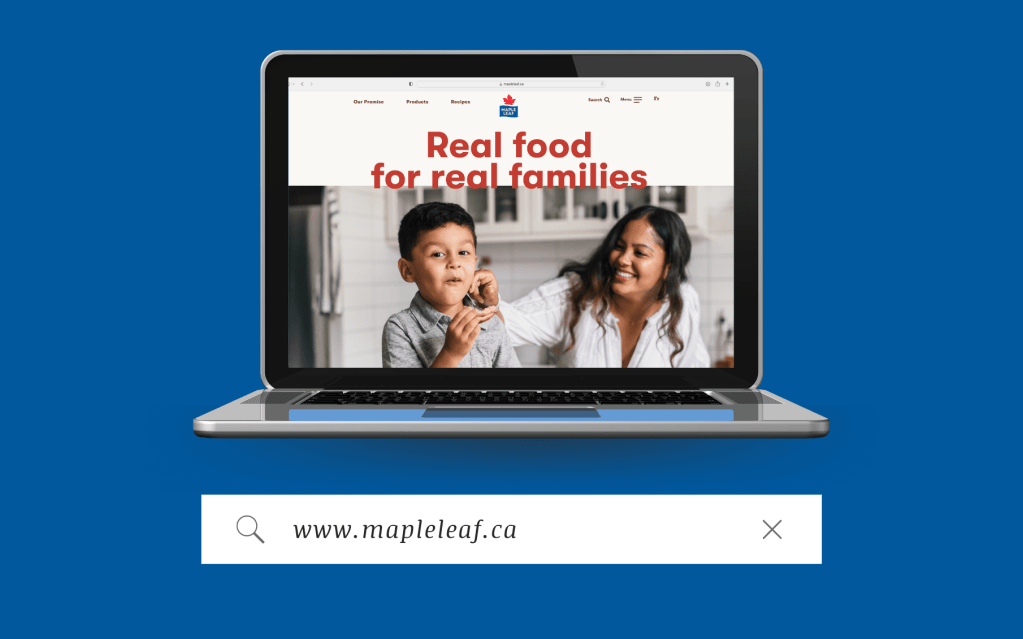 Maple Leaf Foods and Trew Knowledge: A Growing Relationship
The relationship between Maple Leaf and Trew Knowledge started years ago. While supporting their existing websites, TK was selected, along with Sid Lee as a creative agency partner, to kick off a complete redesign and development for the Greenfield Meats site. Forward-thinking, beyond the refreshed site, Trew Knowledge developed a master theme that could be customized and repurposed for other brand sites in the future, moving them away from Divi, the previous page builder, to WordPress Gutenberg.
Recently launched, Mapleleaf.ca came to life entirely redeveloped using the Gutenberg builder. The brand new site nicely combines both Maple Leaf Foods flagship brands, Maple Leaf and Maple Leaf Prime. The brand strategy demanded a much more user-friendly and easy-to-navigate website as much as easy to maintain in terms of content creation and technical support.
Now, let's talk about the brand new Mapleleaf.ca
The strategy team in charge of the Maple Leaf new website had to deal with two major challenges that guided the entire project: to refresh the brand presence, keeping it aligned to the brand's promises and goals for the present and future, and to make the sites more performant and easier to update, never missing an opportunity to launch new products and promotions on time and keep in touch with the clients. During the designing phase, TK's mission was to provide support and technical consultation to the design team in order to, later, bring their impeccable work to life.
The cutting-edge execution plan 
Mapleleaf.ca was smoothly developed in conformity with our agile project methodology. The method brings trust, adaptability and collaboration to each step of the project, resulting in faster deliveries and fewer issues along the way. The Maple Leaf project touchpoints involved weekly stand-up meetings, bi-weekly demonstrations, project sprint planning, story writing and requirements gathering. Along with the technical documentation, workshop exercises with key stakeholders, working sessions for project planning and troubleshooting workshops were performed. All of those components, aligned with open communication through teams, were the key to creating the fresh and desired user experience.
Moving to the block editor was an outstanding improvement. Gutenberg editor and its interchangeable blocks allow for changes within the entire theme without deep technical knowledge. This optimizes processes and makes it easy for users to create custom layouts to match their needs, amplifying content possibilities and design experimentation. The Maple Leaf Foods team now feels confident to take painless initiatives to maintain their site, and that didn't require long hours of training and consultation.
Using modular blocks also allowed us to deliver the entire project faster and with the versatility required by the Maple Leaf Foods strategic team, as the blocks interact with each other to provide innovative, easy-to-use solutions. For the brand's new website, custom block development, custom post types and templates for the previously approved redesign, updated default block style, built-in filtered site search, form integration, and much more led the entire TK team to put in countless hours of work in a result that brings a hiccup-free experience to users, administrators and content creators.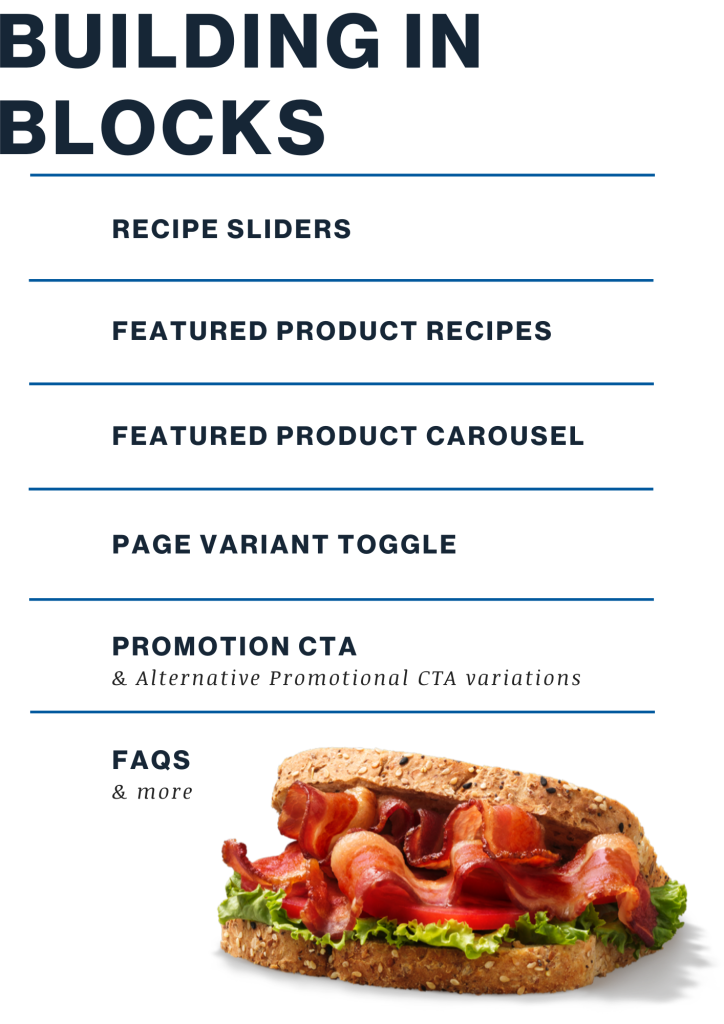 While building in blocks, TK was able to find solutions that suit and overcame the redesigning purpose. The result is a dynamic website, full of resources that make the user more comfortable navigating and finding the perfect piece of information, being a product, recipe or a bit of both. Alongside easy to find data, the solution includes interactive components by bringing:
– The Popular Now menu, a dynamic recipe filter that showcases the favourite recipes among the users.
– The #realmapleleaf feature, an integration with the brand's Instagram account that displays dynamic content.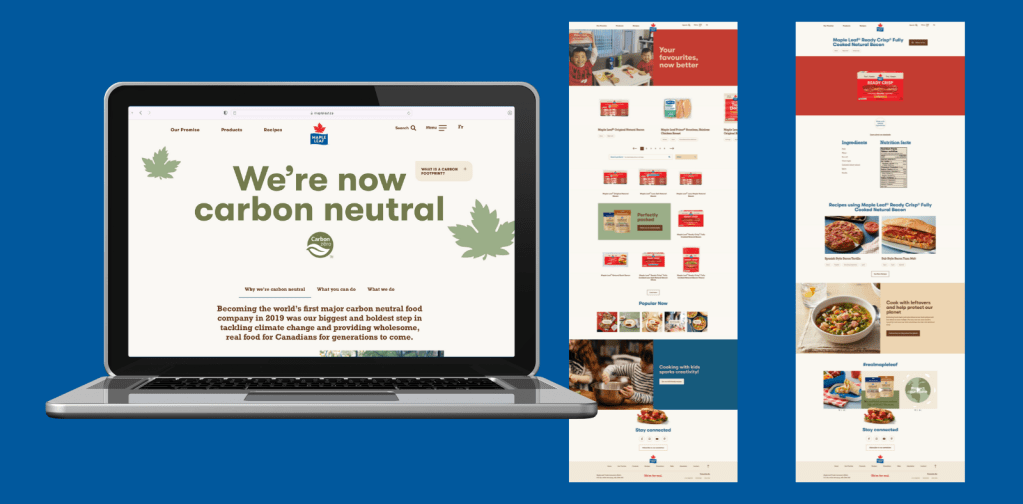 The results
– The partnership between Trew Knowledge and Maple Leaf food has already earned two rebranded websites sites, and there are two more to come in 2022. 
– While providing the admin team with a new platform that allowed for flexibility, customization and creative design, Trew Knowledge implemented a multisite architecture to support future website additions and make the content creation even more intuitive and easy to share across sites.
– Along with the redevelopment initiatives, TK still provides on-demand support for Maple Leaf Foods' other brand sites, ensuring the same smooth experience for each of them.
---